As freelance web developer, my day usually involves working from home and, simply to make sure I speak with real, live human beings during the day, in local cafés. So, why not do the same but from another country, whilst riding my bike at weekends? Here goes...
Yeah, you'd think some planning was involved, wouldn't you?
 
I kind of had a plan; to visit the Horizons Unlimited HUBBUK in Wales and then to ride down through Europe to visit two Drupal web developer meetings in Italy and Hungary. I made a mention of this plan via a tweet way back in May and that started off a relationship and project on improving HU...
As far as actually planning, though  pah - I has a ferry booked. That's it.
I knew I wanted to ride down through France & Italy and then cross across to Greece to try and make a break for Turkey. The idea being to "leave Europe", even if only for one night.
Onwards to HUBBUK!
The Horizons Unlimited HUBBUK was a new experience to me. Travelling down there was a bit of a case of ignoring the satnav (more on this later) and knowing my way across the UK and combining that with watching the weather to pick my way to Hay-on-wye avoiding the showers. I nearly made it, too! 
I got caught out on the M42 and again about 15 minutes from the venue, Baskerville Hall. Of course, this meant turning up a little bedraggled but no worries - I was there and I wasn't camping - I was in a nice, warm, dry dorm room. Bliss!
The rush to Milan
After HUBBUK, I was supposed to be attending a web developer conference in Milan (yeah, I know, hard life) and really had little time to get there.
Leaving HUBBUK, I went straight down to Portsmouth for my fast ferry to Cherbourg and on to a friend's house near Caen. They have just bought a lovely place they are doing up and would love to have stopped and helped but the weather was not looking good for the next day so tried to make an early start.
Reality was, I had an utterly miserable day crossing France. Virtually the whole way was wet autoroute. Don't get me wrong, I love Idris to bits but an S1000XR doesn't give a lot of protection from the elements and, even in my fancy-pants Klim suit, I was soaked by Dijon. Actually, keeping going as far as Annemasse gave me a little time to dry out in the wind...
The next day dawned a little brighter, though, and it was time to get out the more dry weather gear and head round Lake Geneva a little and up and over to Chatel before making my way into Switzerland and the Col du Grand Saint Bernard.
Oh my! I only passed my bike test in November 2013 and Idris is only my second motorbike. Letting a BMW S1000XR loose on that climb was amazing! I'm sure more experienced people would be all no big deal but to me it felt like almost limitless power and speed. Loved it!
From top of the Col, it was a beautiful ride down into the Aosta valley and then onto the Italian autostradas to Milan - wow, those Italians will race anything, anytime! 😜
I made it, though. And loved it too.
I was struck by quite how far I had come in two years as a rider. I remember that first time out on the road on a 125cc Yamaha and how exposed and nervous I felt. Now, I was riding around the centre of one of the busiest cities in the World, with cars, scooters and bikes flying all over and feeling happy.
Milan and Drupal Dev Days
Drupal Dev Days is a week where many of the web developers who help to improve Drupal (one on the tools we use to make HU work) get together to work on the next version.
We worked on many things that are now forming the backbone of this new website - we benefit from the collective good will of so many. I have a particular interest in making things "make sense" and being self-explanatory so some of were working on reorganising admin menus amongst other things.
Keeps me out of trouble, anyway.
A few days near Como
Oh what a place to spend time!
I took the minor roads north out of Milan, avoiding the Autostrada, to get a bit of a feel of suburban Milan. Mainly, I learned it was hot. I also learned that my bike was really dirty so had to find an autolavage (sp?) and get it cleaned.  Much better.
I spent the day working with possibly the most amazing office view ever. Genuinely stunning, as you can see:
In the evening, I found an equally stunning campsite and needed up spending a few days there. It was going to be really hard to move on south...
Heading south
Heading south meant finding various places to stay over that were comfortable but cheap. Campsites were the option in Italy and I did find some good ones.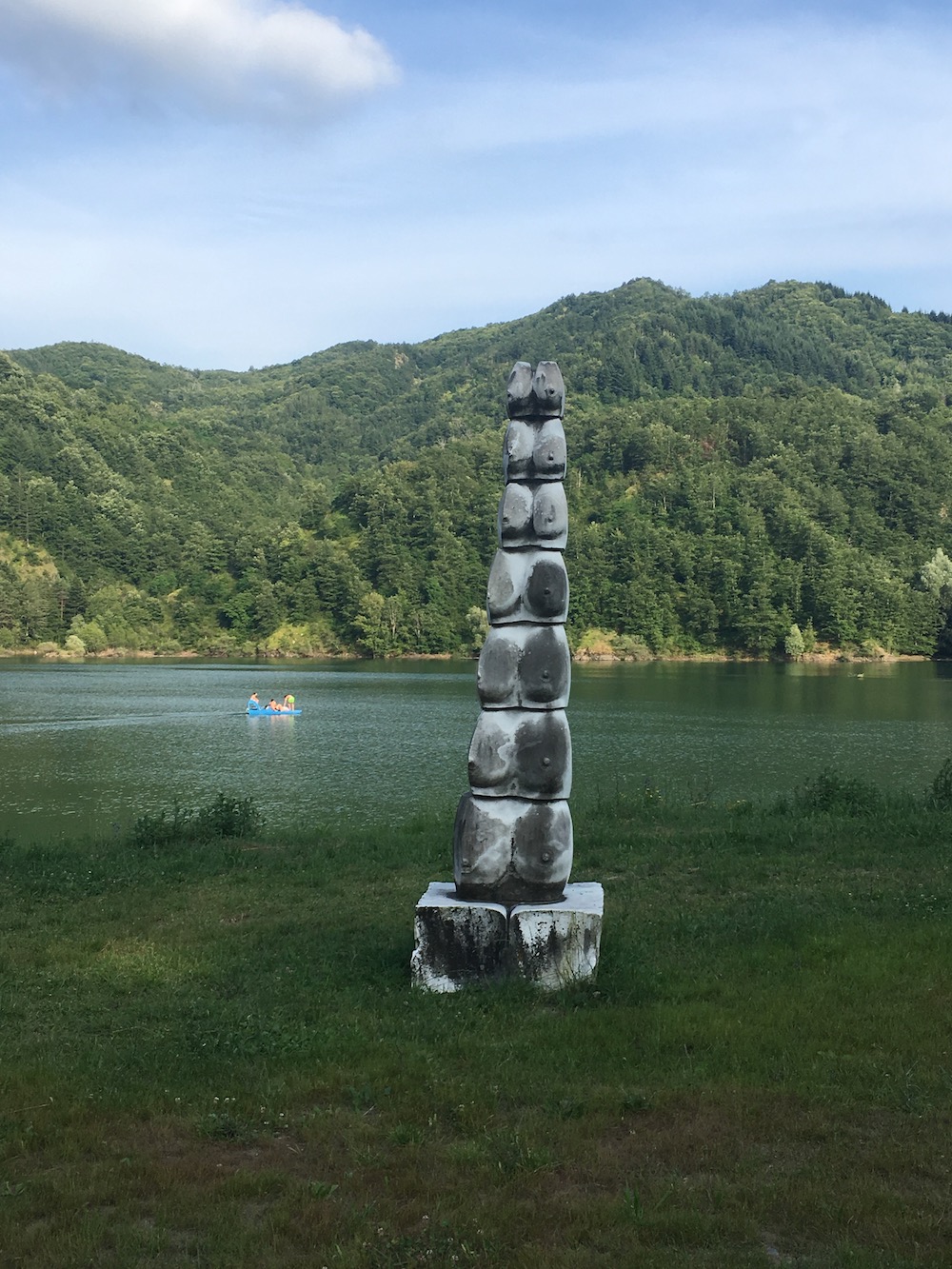 The ride down was beautiful, though a fair bit of Autostrada did sneak in there. It was just simpler on occasion. When I get my stupid BMW Navigator V to work properly, I'll upload the tracks here. (long story - I'm not a fan)
Some fab roads, though. The temperature was perfect in the mountains and I got properly into the groove of Idris, my BMW S1000XR. (Yes, he has a name - I was a little shocked at how hot the engine became so I named him Idris after the dragon that lived in the firebox of Ivor the Engine)
All roads lead to Rome
Rome is hot! Really hot. I think I had to come here but also realised that I'll probably spend the rest of the trip avoiding big cities where I can. The mountains and villages are where I am happiest.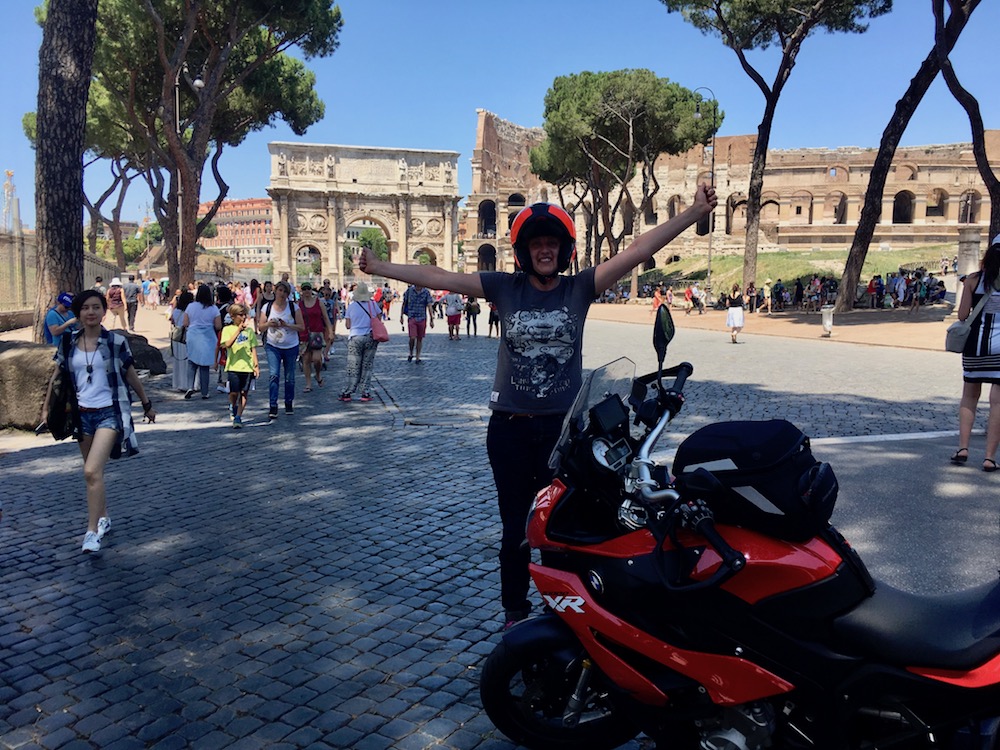 Idris the bike was amazing, though. I have more than enough gear piled up on there - seeing as I'm away for a couple of months, sometimes camping - yet it was easy to manoeuvre in the Roman traffic. Mind you, it's just as well...
Heading for Greece
Whist Italy was fabulous, I had to keep moving and the ferry to Greece would definitely mark the point I had travelled by motorbike further than ever before.
My plan was to board a ferry from Bari, having visited the Trulli houses at Alberobello. Oh yes - and they were amazing! I stayed in one and it was tiny. Makes me want a tiny house, to be honest!
My big fat Greek wedding
I stayed in some tiny village in northern Greece and wandered down into the village square to see about some food to find people putting out hundreds of tables and chairs. Turns out a local was getting married - and I was invited, if I'd like to come along - oh yes!!
Fab night.
Having a cry at the side of the road
My goal this year was to "make it out of Europe on my bike". So, the idea was to ride down through Greece, over the border into Turkey, Gallipolli and back over the Bosphorous.
When I left my digs in Greece word was coming through on Twitter about a coup in Turkey. The little TV images I had seen simply seemed to be a few jets flying over that still had their navigation lights on. If the coup was serious, there's no way the jets would still be lit up...
But, the closer I got to the border, the more and more messages I received via Twitter advising me not to enter Turkey.
Eventually, near the border, I had a sit down at the side of the road to make a decision. I spoke with a few people I trust and, eventually, came to the decision that I needed to leave Turkey for next time. Then the tears started. I know I can be an emotional soul on occasion (I blame my drugs!) but I must have made a hell of a sight at the side of the road under a bridge, bawling my eyes out. 
Still the road up to the Bulgarian border was epic. 🤗
Buzludzha
I went up to a place that I had been told about, Buzludzha, and it was way, way more than I expected. Wonderful to have something like this that isn't surrounded by people trying to sell you things. I climbed in a bit and had a wander round but was very aware I was alone and didn't want to have a fall so came out pretty quick.